As a new author, you will be required to complete an Author ID check to verify your identity when your first item is approved for sale. You will be unable to earn or publish items until you have successfully completed your ID check and verified your account.
Why do I have to verify my identity?
As a professional marketplace it's critical for us to confirm the identities of our authors. This provides a trusted environment for our customers and authors to conduct business, and maintain the success of our community.
Is my information secure?
The security of your information is our #1 priority. We use multiple safeguards (technical, procedural and physical) to ensure the safety and integrity of your data.
Our Author ID check process is backed by one of the world's leading end to end ID verification solutions, Jumio. As a PCI Level 1 com­pliant company, Jumio reg­u­larly con­ducts secu­rity audits, vul­ner­a­bility scans and pen­e­tra­tion tests to ensure com­pli­ance with secu­rity best prac­tices and stan­dards. All data is transmitted using secure transport with strong cipher suites and stored encrypted using AES256.
The collection and processing of any identity data is undertaken in accordance with our Privacy Policy and any additional privacy notices or collection statements made available to you during the identity verification process.
How do I verify my ID?
1. Log in to Envato Verify
If you are required to verify your identity with Envato, you will be sent instructions to enable you to log in to Envato Verify.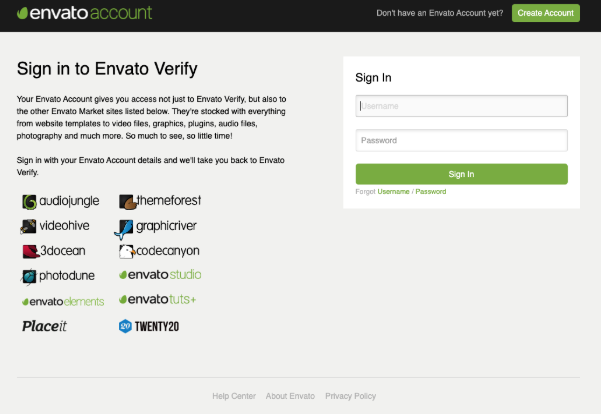 2. Select Country & ID type
Have your ID ready. Select your country (the one associated with your ID) and then choose the corresponding ID type.
3. Scan the front & back of your ID
Hold your document up to your webcam, center it in the viewing window and click "Take snapshot" when the document is fully legible. Be sure there isn't any glare on plastic cards.
Make sure your snapshot is fully legible in the window to the right. If fully legible, click "Continue". If not, click "Take another snapshot" to try again. An ID that is illegible will be rejected and you will be required to complete this step again.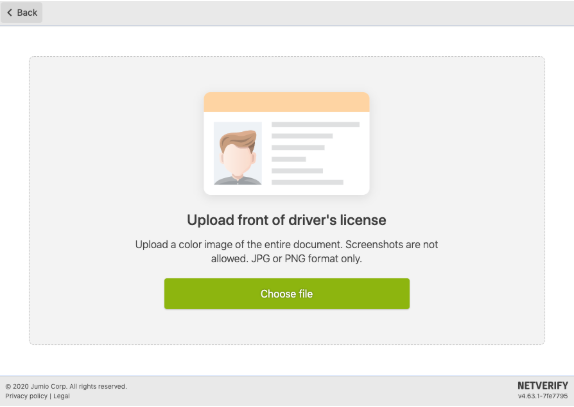 4. Take a photo of your face
Look straight into your webcam and ensure your face is fully centered. When you're ready, click "Take snapshot".
Check your photo in the right window and if your face is fully visible, click "Finish & start verification". If not, click "Take another snapshot" to try again.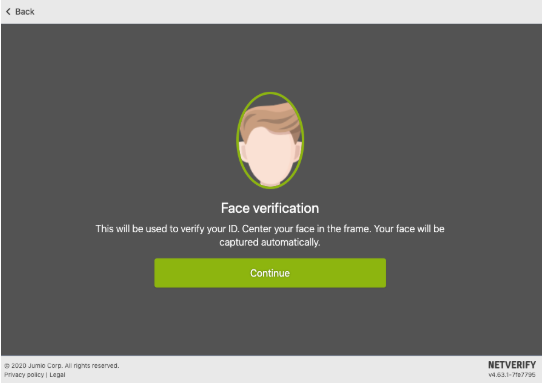 Make sure your photo is clear, follow these tips to avoid errors:
Color images only

: your photo must show a full, readable, color image of your document -- black & white photos or copies are not acceptable

Images of the physical document only

: photos of screens or other photos will be rejected

All information on the document should be

easy to read

. Common issues with legibility are:




Glare obstructing information

Not enough light/too dark

Too far away

Blurry

Watermark over the image

Digitally or physically hiding or cropping information on the document
5. Wait for your verification to process
Once you've finished, your information will be uploaded into the system and then processed. Hold tight while it's being analyzed and make sure not to close your browser. These 2 steps may take a few minutes. You're free to continue working in other tabs or apps.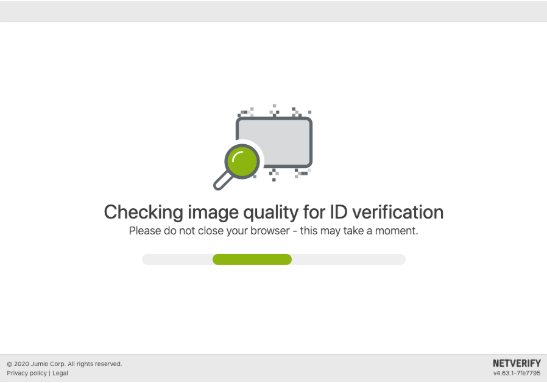 6. Verification Process Completed!
Thanks! We'll email you when your document is verified or if any further steps are required.
Once verified, you'll be able to operate as an Envato author and begin earning.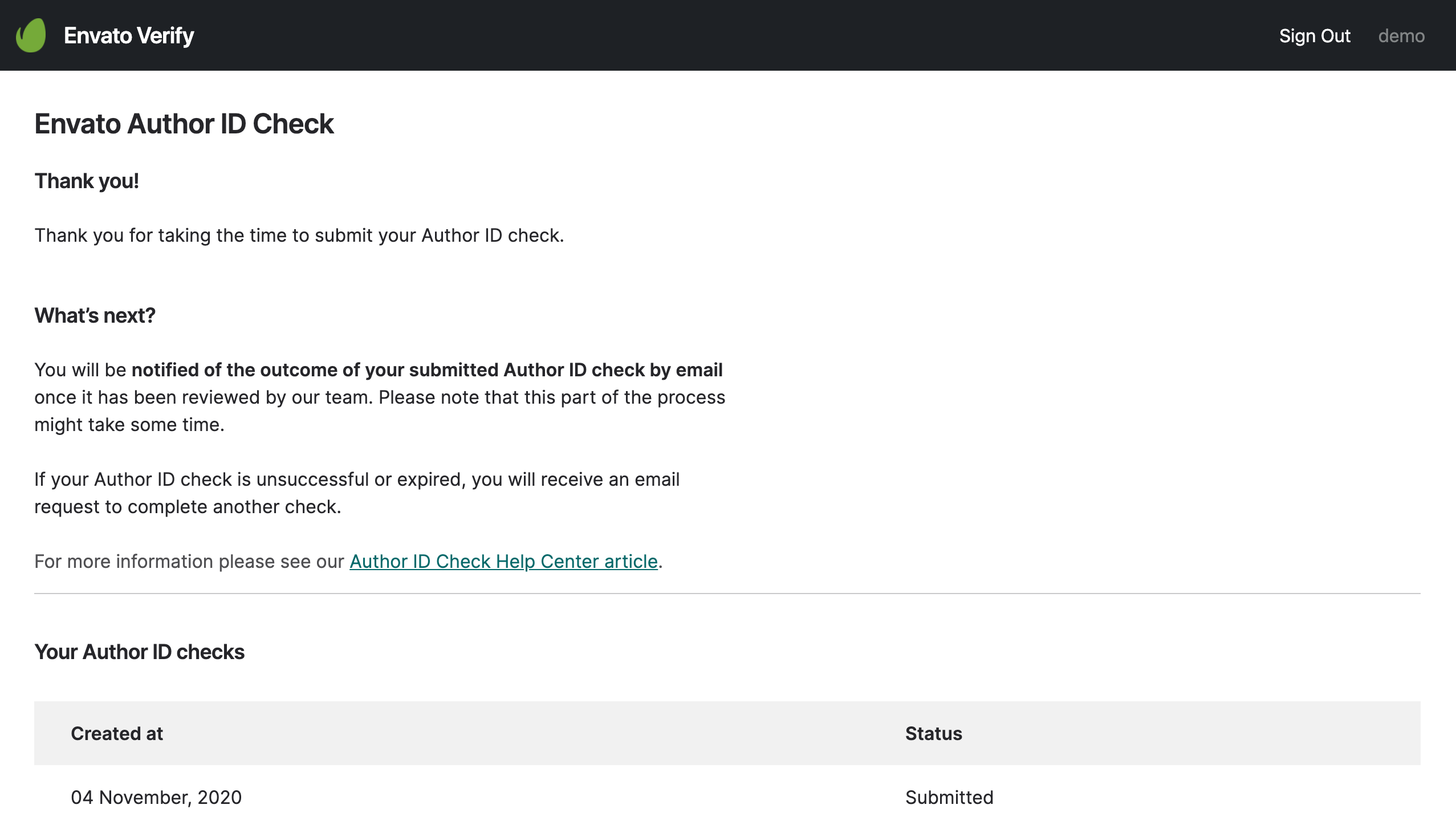 Guidelines for completing your ID check
Important things to note:
You must complete the ID check in one session, within 15 minutes from the time you start the check, otherwise, it will expire.
You must start the ID check within 4 days of it being sent, otherwise, it will expire.
You can complete the check on a desktop/laptop or on a mobile device. Ensure you use a compatible device/browser.
The name on your Envato account must exactly match the name on your ID document.

While you are allowed to operate as a company, we do also require you to list an individual as the nominated account holder. It is the account holder who will be required to complete the Author ID check to verify the account.
For your ID document, please ensure that:
You are selecting the correct ID type for the ID document you are providing as this will determine the number of photos to be uploaded (e.g. a passport will only require 1 photo of the details page; a driver's license will require 1 photo of the front and 1 of the back).
You do not obscure any part of the document (e.g. masking details, poorly framed).
You provide an ID document that is supported for your country (e.g. passport, driver's license, national ID card).
The photo is clear (e.g. not blurry, too dark, too light).
The photo is of the original document (i.e. no photocopies/scans).
The page of your ID that contains your photo is uploaded first.
The document has an expiry date of less than 1 year.
The document has Latin characters.
For your selfie, please ensure that:
The photo is of you and taken live.
You look straight into the camera.
The lighting conditions are correct (e.g. not too dark, too bright, reflections on face).
Your face is aligned with the oval.
What devices can I use to complete my check?
PC/Laptop (all current versions)
Chrome

Safari

Firefox

Microsoft Edge
Mobile
iOS - Apple Safari

Android - Google Chrome and Samsung Internet
Please note: For more information on how to complete the check on mobile devices please see our help center article here.
What document types can be used for verification?
Your ID must be

government-issued

and must include your photo

ID types

we do not accept

are:

Temporary (paper) IDs

School IDs

Bank cards

Insurance cards

Employee IDs

IDs with non-Latin characters
Acceptable
IDs by country
A list of acceptable document types will be presented after the country is selected. If your ID type or country is not available for selection, please contact support for further assistance by raising a support request here.
What are Jumio's Corporate Details?
Jumio Corporation is located at 395 Page Mill Rd, Suite 150, Palo Alto, California 94306, USA. Their website is www.jumio.com