Summary: This guide is designed to assist with questions regarding your statement and Envato documents.
Tax & Value Added Tax (EU VAT) and AU GST
Your Statement
Your statement will provide you with your total sales (the value of all sales you've made to buyers), your total expenses to Envato (the value of all author and SWIFT fees), and details of any other transactions your account may have registered such as referral earnings and purchases.
This article will help you to Download Statement Data as CSV.
Sales will appear on your statement as separate line items. Bundled Item Support and any purchased support extensions will appear as separate line items (if applicable).
Unsupported Items
Items that do not come with support will appear on your statement in two lines:
Supported Items
Items that come bundled with 6 months of support will appear as four lines:
Author fee for the item

Price of included support component

Author fee for included support component
If the customer purchases a support upgrade (or extension), you will see an additional two line items on your statement:
Price of extended support

Author fee for extended support
The author fee statement lines show the amount you have paid Envato as an author fee. There are separate lines for author fees relating to sales (Author Fee for sale) and item support (Author Fee for included/extended support).
Your Invoices
You can access the invoice that was issued to the buyer for the purchase of an item by clicking the invoice number on your Statement.
Your invoices will look like this:
Monthly Service Fee Invoice
Authors receive a monthly service fee invoice from Envato for all author fees (item sale and item support), and SWIFT fees that were charged during the month.
Service fee invoices are issued on the 1st of the month:
Eg. The service fee invoice for the month of February 2015 issued on March 1, 2015
You can access your Monthly Service Fee Invoice at any time. To do this:
Go to your

Statement Page (

https://themeforest.net/user/

USERNAME

/statement)

Click the Monthly Service Fees drop down and select the month you wish to view.
Click Download on the right. The monthly service fee invoice will open in a new tab.
NOTE: SWIFT fees will appear on the invoice for the month the payout is processed (paid).
The Total (at the bottom of your Monthly Service Fee Invoice), is the sum of all author, SWIFT fees. Please note that:
If no sales

and

no SWIFT payout occurs during any given month, no service fee invoice will be generated.

If no sales are made during the month, but a payout is still processed via SWIFT, your service fee invoice will detail a SWIFT fee only.


Envato will provide a service fee invoice showing any taxes that are charged during a month. That means if you changed your address mid-month you may see multiple invoices. This example shows an author selling from Australia (attracting GST), Quebec(QST) and from a country where tax does not apply to author fees, all in January 2019.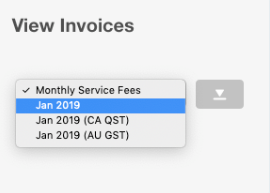 Invoice details
To ensure all your documents are correctly addressed, please enter or update your billing address details. For more information please refer to How Do I Add Or Change My Billing Address?
All financial activity on an account is in the name of the account owner (the person who signed up to the account and agreed to the terms and conditions). We act under the account owner's direction to payout earnings to the payout account you select.
This article will guide you on how to Add a Company Number or Custom Invoice Footer.
Company and buyer details
Please note that only you can see your full billing details; the buyer will see only your company name (or full name and username if you do not have company name), your city, state/province and country. Conversely, you can see the buyer's company name (or first initial and last name if they do not have a company name), city, state/province, and country.


Tax & Value Added Tax (EU VAT)
Aside from specific taxes that are managed by Envato (these are referenced in the Terms and Conditions), it is your responsibility to manage and comply with taxes and laws in your country.
To help you manage your tax compliance, we've put together some information. You'll need to select which guide is relevant to you from the list below:
For general VAT information please see our EU VAT overview or EU VAT information for authors article.
AU GST
For general information please go to the GST summary article or more specifically AU GST Information for authors article.
US Sales Tax
To read more about US sales tax how we can help our US authors meet their tax obligations please visit this article.
If you have questions about taxes please contact taxinfo@envato.com
What is a Credit Note?
A credit note is when a reversal of an invoice occurs (negative invoice). When an invoice has been generated and the transaction is cancelled or voided a credit note is issued to support it.