Summary: This article outlines how Value Added Tax (VAT) works for different regions around the world, as well as Envato's, and your own, responsibilities.
EU VAT
Please note: As at 1st October 2019, Envato's VAT number has changed. Our new VAT number is EU372009975. Prior to 1st October 2019 Envato's VAT number was EU826409867.
Information for Authors
EU tax regulations have Envato act as the supplier for EU VAT purposes only, and collect this tax on purchases made by non-registered European Union buyers.
You can read more about the changes at the EU Commission website, and in the explanatory notes to Article 9A.
Where does EU VAT apply?
EU VAT is collected from buyers in the EU who do not have a valid VAT registration number, and will be applied on:
Purchases
Buyer Fees
Order Handling Fees
EU VAT does not apply to Author Fees and SWIFT Fees.
How does it work?
When a buyer is from an EU country and has not provided a valid EU VAT Number:
The amount of EU VAT is calculated as a percentage of the purchase price and/or fee it applies to.
The percentage is based on the EU VAT rate in your country (Refer to page 3 of the .pdf file)
EU VAT is paid by you 'the buyer'. All prices and fees for transactions made through Envato Market shown on the site are EU VAT exclusive.
EU VAT will be charged in addition to the item price or fee amount, and presented to you 'the buyer' at the time of checkout.
Envato, and not the Author of the item, is responsible for determining, collecting and remitting VAT for all Envato Market purchases for EU customers (regardless of where the seller is located). Your invoice will show Envato as the supplier on record for VAT purposes.
Value Added Tax (VAT) charged to buyers will be remitted by Envato to the EU via our VAT MOSS in the UK.
When a buyer is from an EU country and has provided a valid EU VAT Number, no additional tax will be collected. You will receive an invoice that shows that the Reverse Charge Mechanism must be used to account for the EU VAT on that transaction.
The item price (the amount the Author receives) will remain unchanged. Moreover, the VAT won't appear on your statement as it's not the Author's responsibility or liability.
Whose name is EU VAT collected and remitted under?
EU VAT collected from customers will be remitted by Envato to the EU via our EU VAT MOSS in Ireland in our name.
For clarity, EU VAT is not reported in the Author's name, and we do not require Author EU VAT registration numbers or details.
Do you have an example of how it works?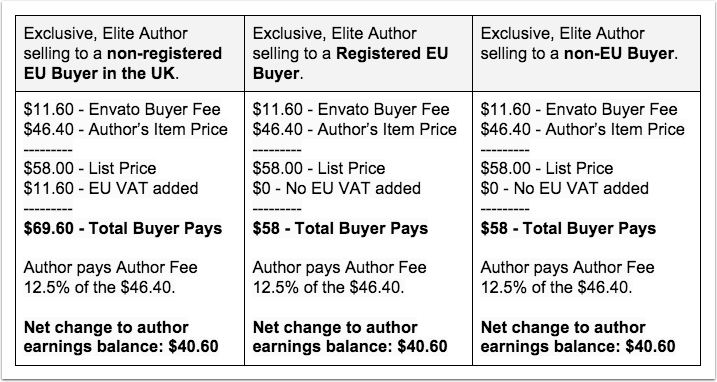 For EU VAT purposes only, Envato is shown as the supplier of record and our EU VAT registration number is listed on the invoice. EU Customers will use Envato's details when accounting for their EU VAT.
For non-EU Customers, the Author is shown as the supplier.
Author view of the EU VAT item purchase invoice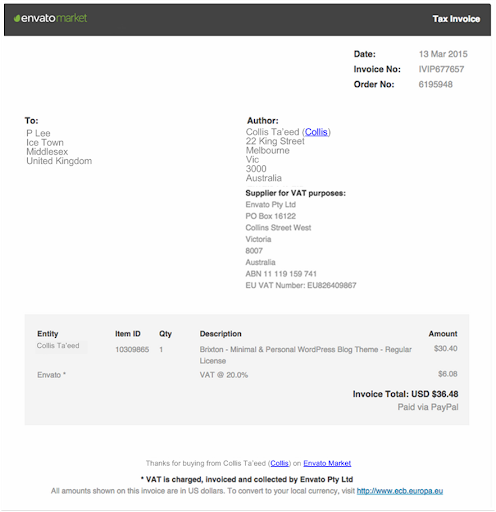 Customer view of the EU VAT item purchase invoice

Why do Envato's Service Fee invoices not show EU VAT?
For EU VAT purposes only, Envato steps into the supply chain as the supplier on record.
This means that for VAT purposes, an EU customer buys from Envato and EU VAT is accounted for on this transaction.
As a result, for EU VAT purposes only, the Author is deemed to have sold the item to Envato. Since Envato is not an EU entity, there is no further EU VAT applicable.
For all other purposes, including selling to non-EU customers, and including income tax purposes, the Author is selling directly to the customer and receiving a sale income.
Subsequently, the Author pays an Author fee to Envato. You will receive a non-VAT service fee invoice for all Author fees and you can use this for accounting for income tax.
Russian VAT (НДС)
Note: As of March 2022, we are not paying Russian VAT in line with our policy to not pay any money to the Russian financial system until sanctions are lifted.
Russian VAT (НДС) is a tax imposed by the Russian Government on certain goods and services purchased by an end-consumer located in Russia. This tax extends to non-resident suppliers of digital services. The service offered by Envato in granting Russian Authors access to license their digital goods on Envato Market is subject to Russian VAT and accordingly, Author Fees will be subject to VAT from 16th November 2020.
Russian VAT will apply to Author fees charged at a rate of 20%. This will apply to both individuals and businesses (irrespective of whether you are also VAT registered in Russia). Envato will issue you with a compliant VAT invoice to ensure that you can declare the sales on your VAT return and claim a tax adjustment for any VAT charged.
You will also be able to see VAT on your statement page which can be accessed through your account settings for all sales completed from the16th November 2020. Russian VAT will also begin to be charged on your monthly Author fees from 16th November 2020.