Summary: This article contains instructions on preparing your T-Shirt Template for uploading to a Graphics category.
Technical Requirements
T-shirt templates must have an editable text element incorporated into the design.
The design should be the actual size as it will be printed on the shirt.
The EPS file must be in CMYK color mode.
Each color should be separated onto its own layer. Keep in mind that most t-shirts are screen printed. Each color requires a separate screen, which adds to the printing cost.
Non-standard fonts should always be documented in the item description with a link and inside a help file within your main .zip file.
T-shirt Templates must be submitted in vector EPS format.
File type for Screen Printing: Vector EPS, CMYK or Pantone color library.
File type for Direct to Garment Printing: Vector EPS, in RGB color mode. This is because there are many different garment printers out there and they will convert RGB files to a colour profile that matches their requirements.
In the item description, state whether the file is set up for screen printing or direct to garment printing.
Creating Files for Screen Printing
Screen printing is best suited to designs with few colors (no more than 6).
Each color requires its own screen, therefore each screen in the design adds to the cost of printing.
Each colour should be separated onto a dedicated later. For example, a layer of everything red and another for everything blue.
Example;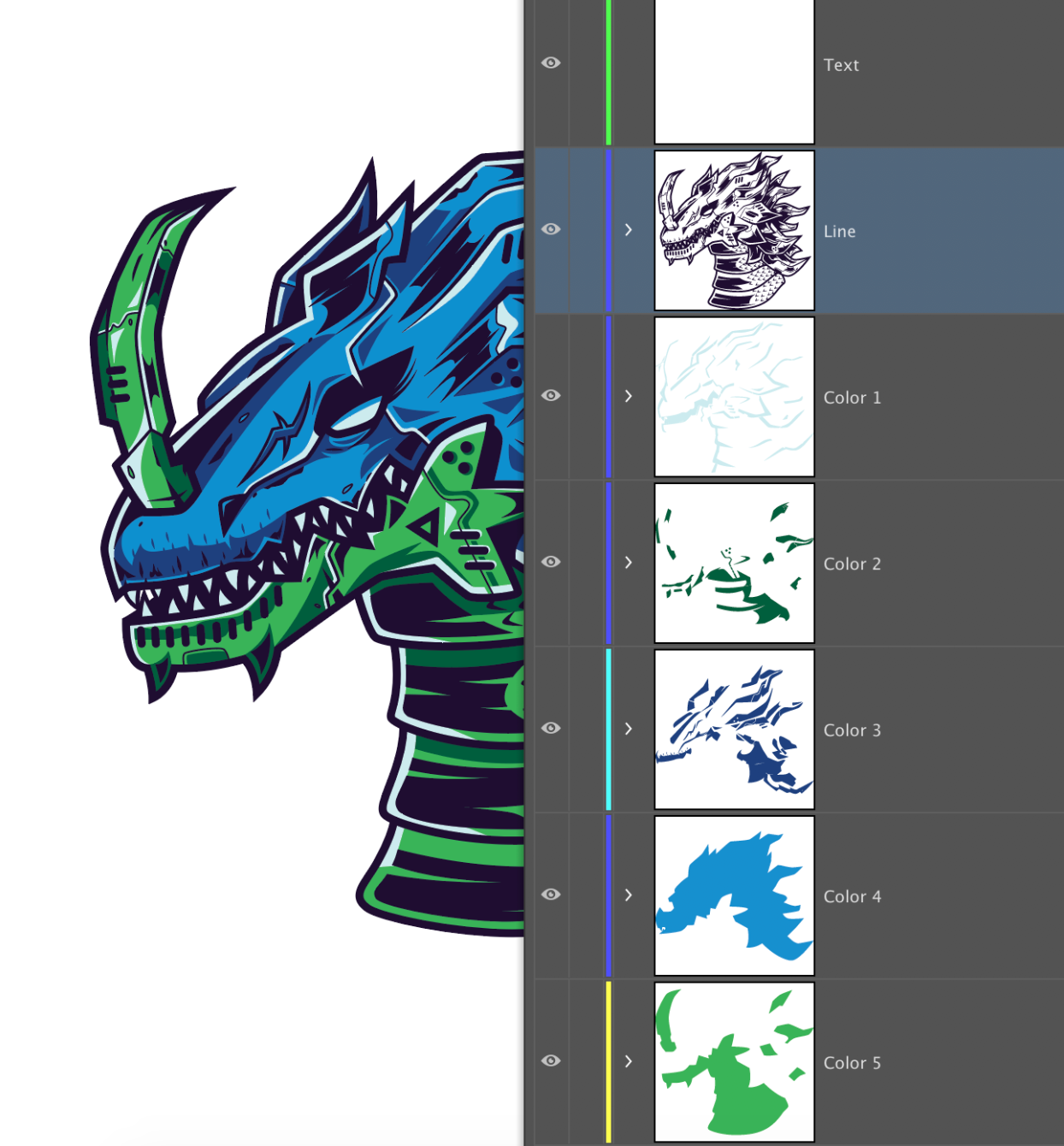 The Dragon T-Shirt Design by wikuideotsartwork
Creating Files for Direct to Garment Printing.
Designs with many colors can be submitted. These can be printed using DTG (direct-to-garment) digital printing.
Ink is layered to produce the print, because of this, the result isn't as vibrant as a screen print.
DTG cannot produce specialty colours such as fluorescent colours and metallics. It also changes the tone of extremely bright and pastel colours. If your design absolutely requires these colours, we suggest that you create a screen print file.
For help with our upload process including how to format your submission title, tags and description, please read this article. A Step by Step Guide to the Upload Process