Summary: This article explains how to use the Discounting Tool to easily set a sale/discount on your item. You can also review our Discount & Promotional Pricing Policy for more information on the rules regarding additional advertisement.
If you know what you need or want to skip ahead, you can find more information by clicking on the other steps below.
1. Navigate to "Manage Discount"
2. Choose Discount Amount
3. Choose Discount Period
Discount Terms
1. Navigate to "Manage Discount"
You can access the tool from your item edit tab. Once here, you'll see a drop down menu called "Manage Discount"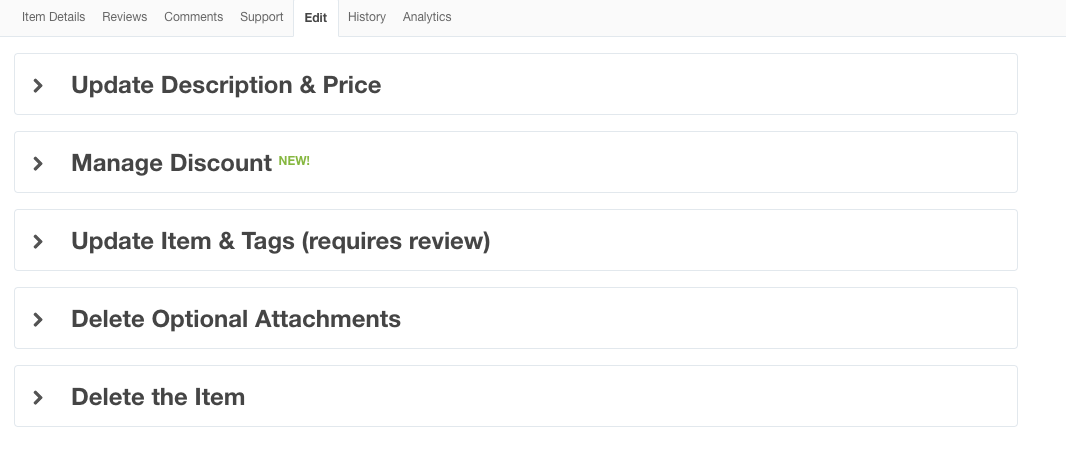 2. Choose Discount Amount
Once you click this you will see a range of default percentages below in the Choose discount amount box, as well as the current item price up in the top right corner.
If your item is currently on sale, it will say Status: Active underneath the price in the top right corner.
You can click on one of the default discount percentages, or you can use the custom discount section at the bottom. Please note, the second column shows the amount of discount minus the buyer fee. The buyer fee will never change, as the discount is not applied to this.
The last column (discounted purchase price) shows the price that will be shown to the customer.

Please note that the discount is based on the total item price. This means, for example, a 30% discount for the customer, not the author. Also, final prices are rounded down to the nearest dollar amount.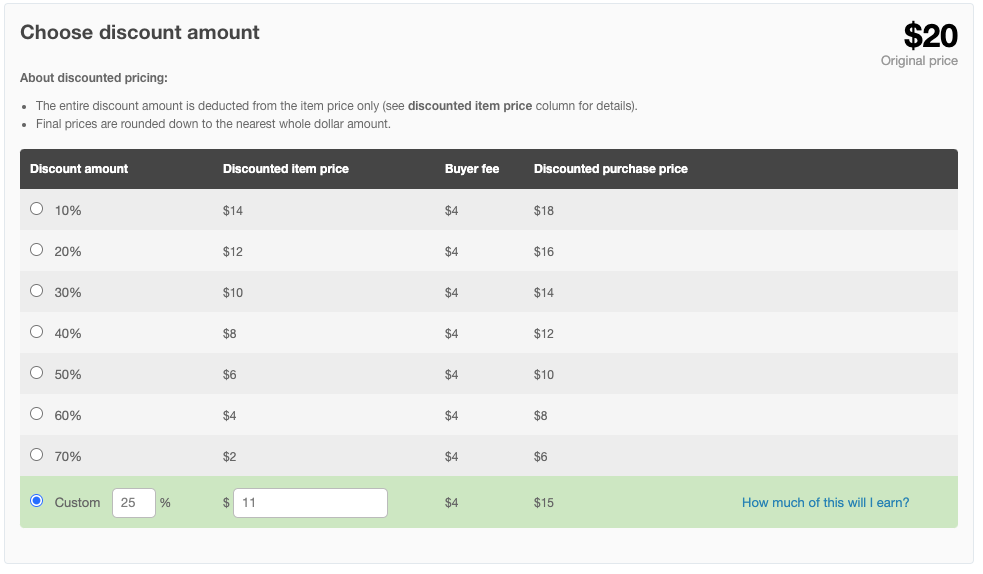 In the custom row, you can change either the discount percentage amount, or you can choose a specific item price in the second column. It may help to look at the last column (discounted purchase price) to see what price the customer will see with your custom discount.
For more details on how much you will earn from your discounted item you can click on the 'How much of this will I earn?' link to the right of the custom row.
3. Choose Discount Period
The next section is where you set the discount period. It's as simple as choosing the calendar dates, but there are a few additional things to bear in mind.
Each item can be discounted up to a total of

60 days in a rolling 12 month period

(you'll see the particular item's discount availability mentioned within this section).

An item can only be discounted for up to

30 consecutive days

.

An item has to have a stable price for 30 days before it can be discounted. The only exception to this is where your item participates in Envato-led promotions.

Read more about this here.
Keep in mind that calendar dates and times are based on Melbourne, Australia time.
Discount Terms
After you choose your discount period you will need to make sure you acknowledge the terms below in the Discount terms section.

Once you have clicked on the check box, you can then click underneath to 'Save and Schedule Discount'.
If you've already set up a future discount for your item, and want to cancel the discount before it goes live, you will find a 'Cancel Discount' button in this space.
In terms of managing your discounts generally:
Note that you can only schedule one future discount per item at a time.

If you have scheduled a discount for one of your items, and you either (1) schedule another discount for that same item, or (2) change the original price under your 'Update Description & Price' tab, those actions will cancel the existing scheduled discount.

You can cancel scheduled discounts at any time before the discount period begins and the discount is activated. The

item price

and

discounting cannot be edited or canceled during the discount period itself.
We recommend cancelling no later than 24 hours prior to the scheduled sale time to ensure there are no issues.