Summary: This article outlines the key requirements for your After Effects Project Files within Video.
Technical Requirements
Additional Information on Customization
Documentation Requirements
Technical Requirements
Main File - Folder Structure
All items must follow a clean and organized folder structure as explained below:
Your project root directory must contain:

Project file(s)
Help documentation
Asset(s) and footage sub-folder

File/Folder names - Provide meaningful names to the files and folders to guide customers through your project directory.
Any element within your Project File that needs to be changed by the customer should be easily editable and located within its own dedicated composition.
Third-party Plugin
After Effects project files can be created using third-party plugins.
List all the required plugins in the Description field in the upload page.
(Optional) Create a pre-rendered project file - If you would like to make use of third-party plugins without limiting your potential customer base, you can include a second pre-rendered project file.
Please Note: In this case, you will need to export the plugin results as separate video files and replace the plugin instance(s) with the rendered video(s).
Check with plugin publishers to make sure that the plugin you are using permits pre-rendering animations for commercial sale. For example, when you use Video Copilot Element 3D in a project file that you want to sell on Envato, the customers need to own the Element 3D to use your project.
Expression Universalizer
As Envato operates an English marketplace, we require all the expressions within your project to be written in English. If your project makes use of expressions, we recommend that you use Expression Universalizer script by Lloyd Alverez to convert your expressions so that they function properly when any other language apart from English is set.
Please note, if your item uses universal expressions, be sure to let customers know by selecting Yes on the Universal Expressions attribute when uploading your item.

If you are building your project to support editing through Premiere Pro as a Motion Graphics Template, using the Graphics Essential Panel, you must provide all expressions in a universalized format.

Assets
Assets are photos, illustrations, videos, code or music that may be a part of your item or item preview. It is very common to include assets in your After Effects Project File that need to be included in your zip folder and distributed to your customers.
If you are planning to include assets from an outside source, check if those assets are properly licensed. For more information on the asset usage, please read this article.
Ensure that all the assets are placed in the correct folder and linked properly before saving your project. Replacing or relocating asset files after saving your project might result in "Missing File" errors.
Any asset used in your preview which cannot be included in your zip file should be replaced with placeholder assets to prevent missing file errors. Customers can easily replace the placeholder assets with their own assets when they edit the project. You can use the following in your file's preview and these can also be included in your zip folder as placeholders:
After creating your preview assets, the render queue should be cleared out before the final save of your project file.
Video Assets
Video assets can be provided in two ways, either as a video file or as an image sequence. If you choose to provide video files they must be provided within a Quicktime MOV container and must use one of the following encoding formats:
Photo JPEG
PNG + Alpha
Apple ProRes 422
Apple ProRes 422 HQ
H.24
Image Assets
We accept image assets in any format that is supported by Adobe After Effects.
Audio Assets
Audio assets must be provided in one of the two following formats and must be free from any audio watermarks:
Motion Graphics Templates Support
With the introduction of the Essential Graphics Panel in both Adobe After Effects and Premiere Pro, the new Motion Graphics Template (MOGRT) file format is now made easier for customers to use and customize aspects of project files directly within Premiere Pro.
If your project file supports Premiere Pro editing through the Essential Graphics Panel and includes MOGRT template files, ensure that you meet the following Project Files and Essential Graphics Panel requirements.
Project Files Requirements
The guidelines for Project files including Motion Graphics Templates are as follows:
All expressions used within the source After Effects Project Files must be universalized, as described above.
If your After Effects item uses any third-party plugins, then pre-rendered versions of the plugin-related elements must be provided and referenced in the resulting Motion Graphics Template file.
Sufficient help files and documentation must be provided to help customers understand how to use and customize the Motion Graphics Templates. For more information creating your Help File, please read this article.
When submitting your After Effects Project File, ensure that the Motion Graphics Template option in the Files Included attribute is selected.
Essential Graphics Panel Requirements
The guidelines to use Essential Graphics Panel are as follows:
To ease customers' editing experience, be consistent with the naming used within template files and the controllers within the Essential Graphics Panel.
Each distinct section within your Essential Graphics Panel must be clearly named and defined using separators.


Use uppercase(caps) to name your section and make sure that you use a distinct name that represents all controls found within the section.
At the end of the section, you should add a comment line that is completely blank or contains a series of dashes to clearly end the section.
Additional Information on Customization
Supported Controls
Following are the supported controls in the Essential Graphics Panel:
Checkbox
Color
Numerical slider
Source text
If you add an unsupported property, After Effects will display the following warning message:
"After Effects Error: Property type is not yet supported for use in Motion Graphics templates."
Viewing Supported Properties
To view the supported controls within a composition, in the Essential Graphics Panel, click the Solo Supported Properties button. Enabling this option will show only the types of properties that are supported and controllable within the Essential Graphics Panel.
Setting the Poster Frame
Poster frames help users to quickly identify the graphic they are looking for. The poster frame creates a thumbnail of the graphic, which is displayed in the Essential Graphics library of Premiere Pro.
To set the poster frame:
In the master timeline, place the playhead in the frame you would like to select.
In the Essential Graphics Panel, click the Set Poster Frame button.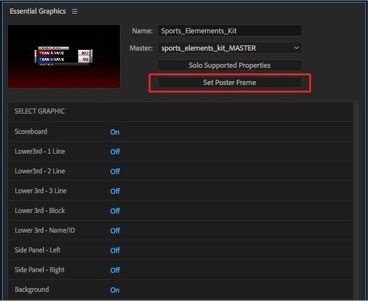 Rendering Compositions
All open timelines (compositions) should be closed except for the final Render Composition. Leaving so many timelines open can potentially confuse the user upon opening the project.
Compositions containing elements that require customization must be clearly named and organized in such a way that customers can quickly identify all compositions and make changes efficiently.
Collect Files
Before creating your zip file, you should use the Collect Files option. This feature gathers all the files in your project or composition in a single location. However, please do not include the Report.txt file (gets generated with the Collect Files option) in your zip folder.
Documentation Requirements
All Envato video Project Files are required to include documentation that guides customers through the customization process. As we require documentation to cover certain topics, it is very important to read this article and get yourself familiarised with our documentation requirements.
Please note: failing to include a valid help file can result in a soft-rejection by our review team.