Summary: Here are the main features to be aware of when it comes to managing your Photo items on Envato.

The Photo Manager is used to manage your Elements and PhotoDune photos. This can include organizing your published photos, or getting more information on photos that were disabled. You can also use Photo Manager to edit prices or delete published photos.

Managing Your Published Photos
Managing Your Disabled Photos
Additional Features
Managing Your Published Photos
Follow these steps to manage your photos on Envato:
Log into your Envato Market account and click on PhotoDune. This is also where you need to go to access your photo items for sale on Elements.
1. Click on your username in the top right-hand corner of the browser and scroll down to Author Settings, then click on your dashboard.
2. Once you are in your dashboard, you will be able to view all your author details including announcements, author resources, statistics, and sales. Under the Upload photos button on the right-hand side of the page, there will be a section called Photo Manager.
The Photo Manager provides you with tools to manage your portfolio. Once you have uploaded your photos, you need to click on the Start managing now button to manage your items.
3. This will lead you to the Photo Manager page and your published items will show up in the Manage Library section.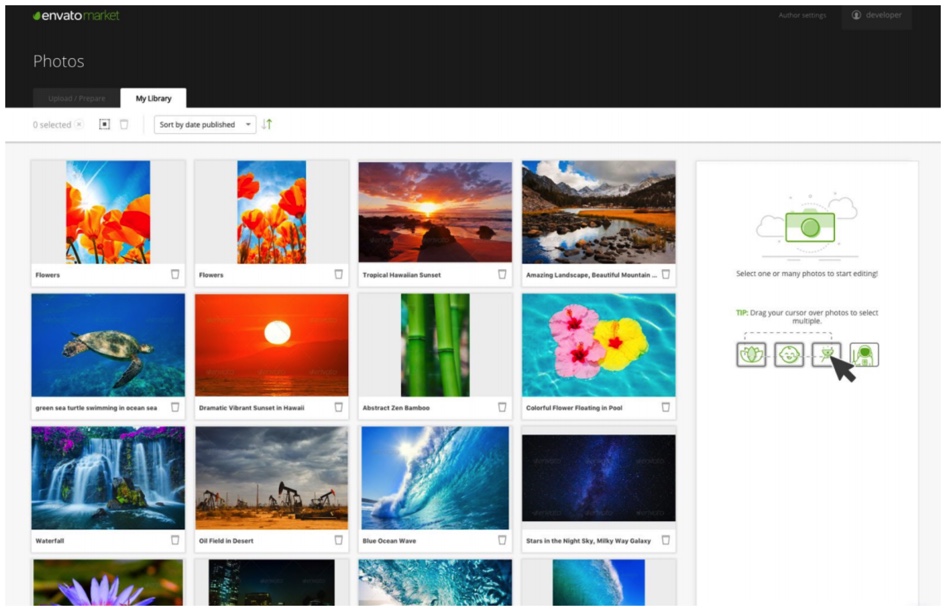 4. You can use the drop-down menu function to sort items by date published, title, regular price or extended price.


Managing Your Disabled Photos
1. You can also view your disabled items by clicking on the third section of the Photo Manager. This will show a grid of your disabled items. When no items are selected, the side panel will show a list of useful links for resources related to photo standards and requirements.
2. If you click on an individual disabled item, you will be able to see important details on a panel on the right-hand side, which includes: The title of your image, the date it was published, the date it was disabled and the reason why it has been disabled. Disabled items can be sorted by image title, date published, date disabled and reasons why.
Please review this article to understand the reason/issue of why your item has been disabled to provide further information and help you resolve this.
Additional Features
With the Photo Manager, you can also:
Set Your Price: When one or more items are selected, the side panel reveals the price change tool. Authors can decide to change the Regular and/or Extended License price.
Delete: One or multiple photos can be selected at once for deletion.
Navigate Pages: Skip to a specific page and/or increase the number of photos that appear on one page.