Summary: This page is an introduction to a new beta feature on the Envato Author Dashboard which will help you identify opportunities for new content.
We want our authors to have the best chance of creating items that our customers are looking for. The Content Opportunities feature is designed to connect you with customer demand and identify opportunities to create items that are currently underserved in our Envato Elements content library.
The Content Opportunities feature is located within the Trends & Insights section of the Envato Author Dashboard.

At first glance, it may seem overwhelming to see so much information on one page, however, we've designed this report to help make quick informed decisions on top opportunities to meet customer demand. This article will arm you with the tools you need to make the most of this powerful feature.
We'll take you through some of the key functions of the report first and then show you how you can identify your own opportunities and know what to publish next.
Primary Filters

Content Type:

This will filter results by the content types customers are searching for on Envato Elements.
Country & Region:

You can filter customer results down to a country & region level. Want to know what content creation opportunities are available in

Australia

, select the country via this filter.
Based on Previous:

This is your time filter, you can search by the past 2 months or year. This filter will also drive the '

Growth'

results, comparing the growth (or decrease) in search terms for the prior time period.
Top:

Number of results returned.
Find Search Terms:

Want to check for a specific search term to understand the customer demand or opportunity strength? This is where you input the keyword.
Key Inputs

The Content Opportunities feature uses 6 key inputs to surface information around customer search and demand. These inputs are:
Search Terms:

The keywords that customers are searching for on Envato Elements.
Demand

: The volume of searches for a search term.
Growth:

The change in demand since the previous time period. An increase is shown by an upward green arrow, a decrease is shown by a downward red arrow and if there is no change;this will be shown as 'neutral'.
Results:

The number of search results that are returned for a search term.
Search-to-Download:

The percentage of customer searches for a search term that resulted in a download.

Supply:

A quick identification of how much content we have in our library that matches a particular keyword. Low supply = a greater opportunity, High supply = lots of existing competition.
By default, results are ordered by 'demand', however, you can click on the directional sort button next to any of the input headings on the table.
More filters

By selecting 'More Filters' (which is located on the right of the 'Primary Filters'), you will see the option to drill down into some of the key inputs mentioned above; growth, results and search-to-download.
There are sliders that you can use to dig deeper into the data presented. For example, if you only wanted to see opportunities for keywords that had less than 1,000 results, you would adjust the 'results' slider until you had between 0 and 1,000 results. The same principle applies to the 'growth' and 'search-to-download' filters.

You can also toggle between English and non-English customer search sessions to see a more rounded picture of customer search results and content creation opportunities for users browsing in different locations/languages.

Finally, you can omit keywords from the search results but enter them in the 'exclude search terms' filter.
So how do I use this information to help me decide what to create next?
Let's say you specialize in graphics and want to see what customers have been looking for in the last month and want to find some inspiration on what to create next (while knowing that customers are actually looking for it!).
First, select 'graphics' from the 'Content Type' filter, followed by '60 Days' in the 'Based on Previous' time filter.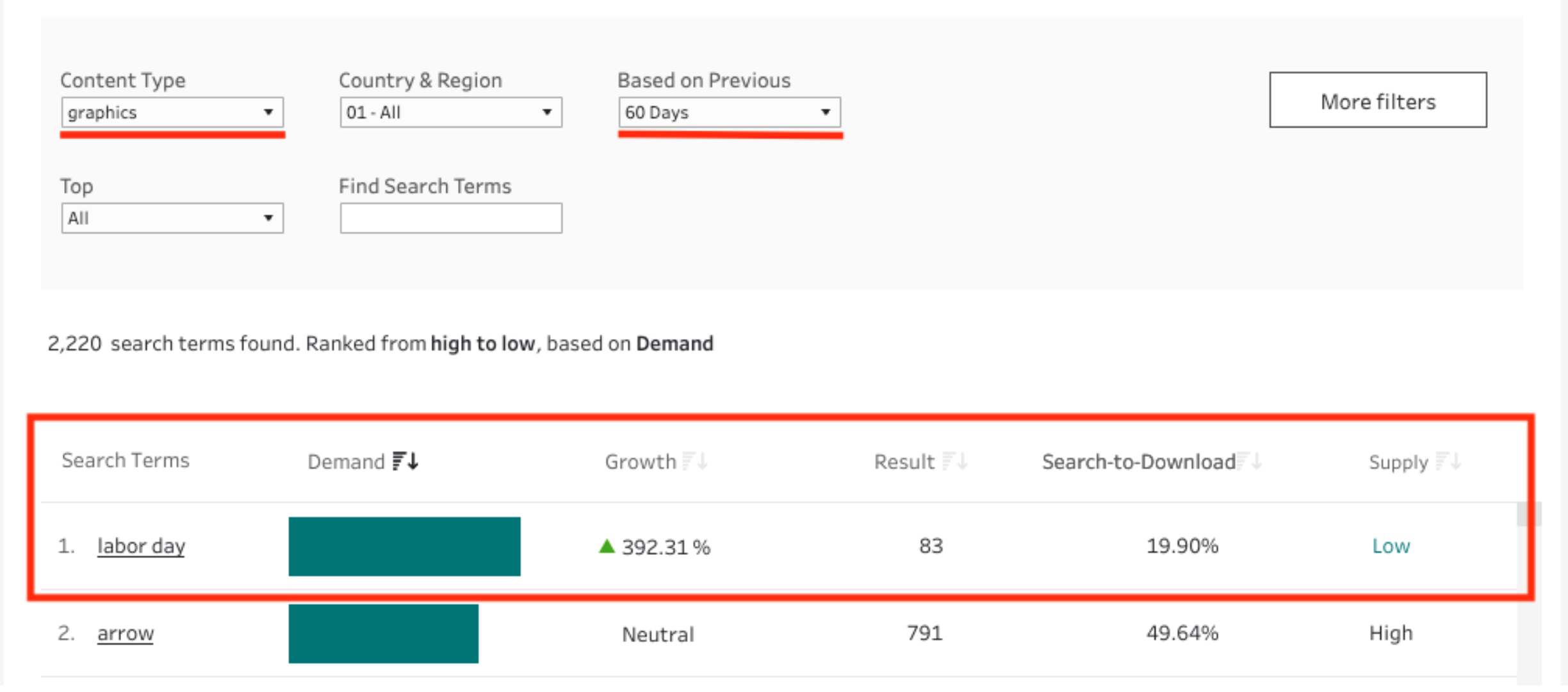 Looking at the first two results on the screenshot (above) you can see there are two opportunities for content creation presented.
There is a strong demand signal for 'Labor Day' and there is also month-on-month growth of 392.31% - looking good so far!
Next, if you look at the 'results' column, you'll see that there are only 83 returned when customers are searching for 'Labor Day' in the 'graphics' category. This is also reflected in the 'supply' column as low (low means a strong opportunity to fill a gap in our library).
Finally, you can see that there is a 'search-to-download' rate of over 19.90%. This means that less than 20% of the searches for this keyword resulted in a download.
This shows how this feature can help to identify an opportunity to meet growing customer demand. In this example we used 'Labor Day', a time-sensitive trend which will increase in demand in the days and months leading up to the event. You may miss the window if you don't have content ready to go, however it signals a good opportunity to get something ready for the next year.
However, if you saw these signals for 'Labor Day' in early August and you had enough time to create an item (or had items in your portfolio you had not yet uploaded), then this would be the perfect use case.
Help us to help you!
We'd love to hear your feedback on this new feature, so please:
Looking for more inspiration?
Check out the Trends and Inspiration section of our Author Hub for a host of helpful resources to help you on your authoring journey.