Summary: Here are the key steps required to set and change the price on an item, and introduces the concept of setting up a sale or discount. This article will be most useful if you've already signed-up as an author and have an item ready to upload.
How pricing at Envato works
How to Select a Price
Changing the Price of an existing item
Item Support Pricing
What will I earn on the item price?
Price Fixing (Spoiler: It's not allowed!)
Discounts and Sales
How Pricing at Envato Works
For all items on Envato Market, pricing is determined at the sole discretion of you, the author of the item.
An item's sale price is made up of four parts:
How to Select a Price
During the Upload Process, (for every item type except for photos - read on for photos) you will need to enter your Item Price in the Price Field. We then add on the Fixed Buyer Fee, resulting in the List Price of your Item. Enter the Item Price in whole dollar (eg. 10, don't add any cents).
To work out the amount that you will earn (before tax) based in the Item Price you select, you can use the tool provided via the link How much of this will I earn?, pictured above on the upload page.
When uploading a new item on PhotoDune you will not need to specify an Item Price. Instead, pricing is determined by your 'default' price which you can set via your Settings page in your Dashboard. You will not be able to adjust this during the upload process but you will be able to change the price of any item in your portfolio after upload.
If you do not set your default price in your Dashboard, your items will be set at a standard Item price of $5.00 for a regular license or $40.00 for an extended license.
Remember when you are choosing a price, that it is against the law to price your item at an amount other than that which you actually intend to sell your item. This means that "overpricing" your item (for example at $1,000,000), only to then lower your price temporarily in response to a sales inquiry from a customer is not allowed. This conduct is considered by law to be misleading or deceptive and places you at risk. This is the case for any pricing practice (both overly high or low) where it is clear that you have no real intention of selling the item at that price.
When determining whether misleading pricing has occurred, we may consider any evidence that the advertised price is not reflective of the actual intended sale price, including (but not limited to):
The usual/reasonable pricing for similar items of that type within the broader industry;
Whether the author has made any sales at the advertised price (or at any price close to that price); or
Whether the author has been observed to temporarily lower the price in response to a sales inquiry from a customer
Changing the Price of an Existing Item
You may change the price of your items at any time, and can also use the Author Discounting Tool to set a temporary Sale/Discount.
If you want to change the price of an existing item (that's not going to be a sale) navigate to the Edit Item page and change the Item Price in the price field. We then add the Fixed Buyer Fee to make the List Price.
Once submitted, price changes will take immediate effect on the item(s).
Item Support Pricing
For supported items in ThemeForest and CodeCanyon, item support will be calculated automatically as a percentage of the item price.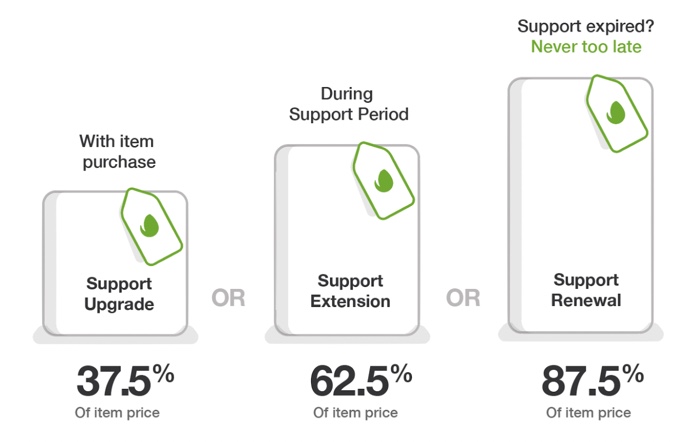 For more information about opting in to offering Item support and how support works, see Item Support Best Practices.
What Will I Earn on the Item Price?
Authors pay Envato an author fee on their item price when it sells. This fee ranges from 55% for non-exclusive accounts, to 12.5-37.5% for exclusive accounts
Envato charges the Author fee on the Item Price, and you get the rest (before taxes). See Author Fee schedule for all the possible author fees.
For example:
Consider an author selling a Photoshop add-on. Envato's fixed buyer fee for this category is $1. The remainder of the total list price is the author's item price, on which we'll charge an author fee. Let's assume in this case that the author is an exclusive author who has made it to the lowest fee (12.5%).
Here's how different pricing decisions would play out:
Author sets the item price at $1, it'll be listed at $2, author earnings will be 87.5% x $1 = $0.88
Author sets the item price at $4, it'll be listed at $5, author earnings will be 87.5% x $4 = $3.50
Author sets the item price at $9, it'll be listed at $10, author earnings will be 87.5% x $9 = $7.88
Author sets the item price at $19, it'll be listed at $20, author earnings will be 87.5% x $19 = $16.63
For the full list of Author Fees, so you know exactly how much you will earn on an Item Price, see the Author Fee Schedule.
Price Fixing
In Australia, as in many countries, pricing conduct is strictly regulated under competition laws (also called antitrust laws in other countries) as well as consumer rights laws.
In particular, it's strictly prohibited to have an agreement, arrangement or understanding between competing businesses (such as two authors) about what price point to sell at, also known as "price fixing".
What this means is that you must make all pricing decisions independently. How to price your work is a commercial decision you will need to make for yourself.
It also means that discussion about pricing of items is not permitted under any circumstances. This is regardless of whether or not you are an author selling in this category and whether the discussion takes place in public (e.g., on the forums or item comments) or in private (e.g., via an email between two authors).
For more information about your obligations in relation to discussing pricing, please refer to the Community Guidelines.
Discounts & Sales
You can use the Author Discounting Tool to set a sale/discount on your item, and it's ok to add banners and advertising on your item to promote the sale. However, there are important consumer law obligations to be aware of when doing so, so please read the Discount and Promotional Pricing Policy before setting up a sale or adding any advertising to your item.
Generally, it is not lawful to advertise any special prices or imply substantial savings when your items are in fact normally sold at those "special prices". This may create a false impression for customers and be considered misleading conduct. Enforcement agencies around the world have broad powers to enforce the law and may impose fines or take authors to court for misleading statements about discounts.
Our Discount and Promotional Pricing Policy sets clear criteria for the promotion of discounts or special prices. Remember, you are free to sell at whatever price you like - this policy only affects your ability to promote a particular price as being a "sale", "discount" or other special price. We will never change the Author Price for items in author driven pricing categories, but to keep Envato and Authors on the right side of the law, we may modify or disable items which are promoted in a way that is against the rules.